Ana Fernández-Pampillón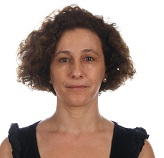 Ana Fernández-Pampillón is Lecturer and Researcher in the Faculty of Philology at the Universidad Complutense of Madrid (UCM).
As a researcher she has participated in projects related to e-learning, b-learning, educational innovation and computational linguistics. Her main areas of research are computational lexicography (dictionaries, glossaries, thesauri and ontologies) and its application to virtual education (e- learning, semantic web and LMS).
Prof. Fernández-Pampillón was Coordinator of the Faculty Teaching Support from July 2003 to December 2006 in the Office of Campus Virtual UCM, where she worked in Campus Virtual's design, management and organisation, especially in educational aspects: coordination, teacher education in e- learning, educational ICT, learning space design, application and diffusion of standards that allow educational reusability of materials, contents and strategies in the CV-UCM. Currently, she is Coordinator of the UCM Virtual Campus and she is member of the standardisation AEN /CTN 36 committe of AENOR. Since March 2007 she has been Vice Dean of Applied Technologies in Philology at the Universidad Complutense of Madrid (UCM).